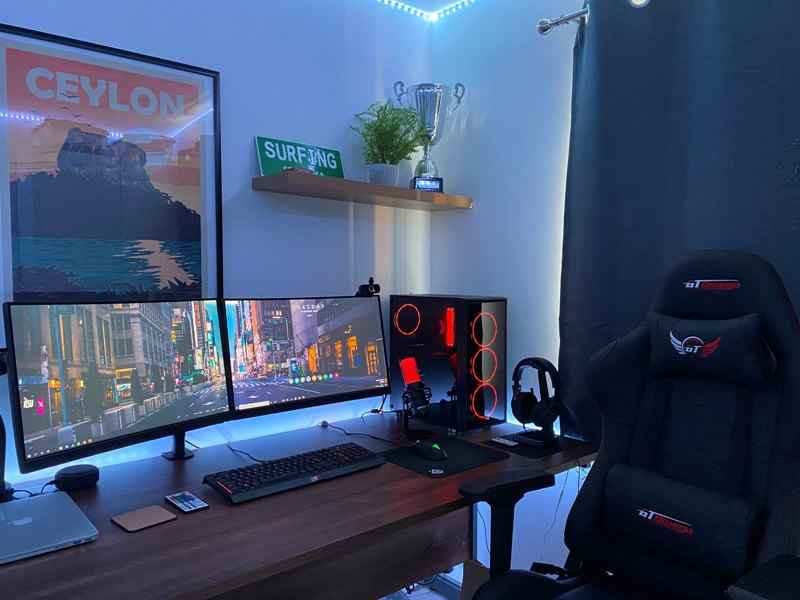 Adding another screen to your gaming setup is something that can raise your experience to another level.
It widens your field of view for those hitting the adrenaline-filled racetracks of iRacing, making it akin to looking through an actual car windscreen. Meanwhile, gamers who prefer real-time strategy titles such as Starcraft 2 take advantage of more real estate by keeping the main screen on one monitor and moving the map and the game HUD to the other, leaving their line of sight to the action unhindered.
It's visual elements like these that have become commonplace in gaming over the past few years as people have taken their setups to the next level. Indeed, interest in online gaming has boomed to make it an industry that is now worth over $173 billion.
The growth has also been seen in the world of casino gaming, which had to adjust due to the closures of the casinos across the country. As players turned to their computers, iGaming thrived; this was due to players being forced to play within their own four walls. Indeed, it wasn't only casino games that were popular, online poker thrived through the pandemic as well, and those playing at home also enjoy the benefits of a dual monitor setup. Players at the virtual tables are also adding extra immersion through multi-monitored setups. Some gamers use two screens for playing more than one poker table at once, something called multi-tabling. Others use one screen to broadcast their gameplay but employ the second screen to find tactics or advice on their next move. This demonstrates that adding a second screen can make all the difference to an online gamer, no matter if you're racing to the finish line, homing in on that enemy spaceship, or looking to bluff your way to victory.
Here are our tips on setting up dual monitors to make your online sessions all more memorable.
Layout
The first thing to do is check you have the space to accommodate a second screen at your gaming desk. Sometimes the OEM monitor stands are not the most elegant and can take up lots of space on your desktop, so consider picking up a desk stand that can house two monitors on one arm. The other advantage of getting such a solution is that it will allow you to make adjustments if you need to check the power or cabling to your screens and set the viewing angle to your satisfaction.
Monitor choice
We recommend you pick up a pair of monitors from the same company, which means the dimensions of each would be the same. Still, you will also avoid any visual inconsistencies from two different manufacturers regarding display quality and clarity. The other advantage to using the same manufacturer is that if you have any trouble with setup, you do not have to get the help information from two separate sources, which could add to the time it takes to set up and bring unnecessary frustration.
Monitor setup
Once you have everything connected, it's time to configure the screens. To do so, right-click on the desktop and select the 'Display' option. There will be two monitors at the top of the popup box; from there, you should select which is to be your main display by checking the box marked 'Make this my main display.' Then click apply. It's as simple as that; you now have a winning pair of monitors ready to go.
Display style and position
By right-clicking and selecting 'Display', you re-enter the options for the monitors. Click on the 'Multiple display' menu, and there you can choose to expand your display to show all your desktop stretched across both screens.
Again by entering the 'Display' menu by right-clicking on the desktop, you can choose monitor 1 or 2. Your preferred orientation of the screens can be selected by clicking and dragging the monitors to the correct place. If you wish your mouse to scroll left to the right, monitor one should display on the left and two on the right. Then when everything is set, don't forget to click Apply to save your settings.
Conclusion
If you follow these steps, you should have a relatively trouble-free experience, which means that you'll soon be enjoying your immersive gaming sessions like never before.