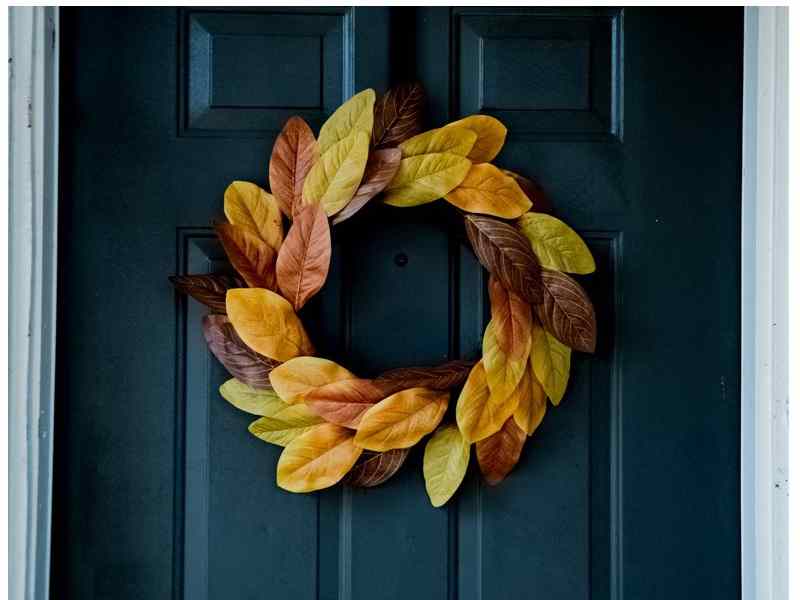 A wreath is a beautiful and versatile decoration that can be used for any holiday. Whether you want to add a touch of holiday cheer to your home or office, or you're looking for a unique gift, a wreath is a perfect choice.
Wreaths are available in a variety of styles and colors, so you can find one that fits your decorating scheme.  If you're looking for a more neutral wreath that can be used for multiple holidays, opt for an evergreen wreath adorned with red berries.
Wreaths can be used indoors or outdoors. If you're using your wreath as an indoor decoration, make sure to place it in a location where it won't be damaged by heat or sunlight. Wreaths made of natural materials, like evergreens, will last longer if they're kept out of direct sunlight.
Winter wreath designs
When the weather outside is frightful, a winter wreath can add some much-needed cheer to your home. Winter wreaths come in all shapes and sizes, so you're sure to find one that suits your taste.
When it comes to Christmas wreaths, the sky's the limit. There are literally thousands of different designs to choose from. Whether you want a traditional evergreen wreath or something more unique, like a candy cane wreath, you're sure to find a style that suits your taste. If you're looking for a really easy way to decorate your home for Christmas, consider using a pre-lit wreath. These wreaths come with built-in LED lights, so all you have to do is plug them in and enjoy the festive glow.
If you want to make your own winter wreath, consider using a foam wreath form as the base. Then, add some evergreen branches, pinecones, or even holly berries. You can also add some small Christmas decorations, like mini Santa hats or miniature snowmen.
Spring wreath designs
Springtime is filled with blooming flowers and fresh green leaves, so it's the perfect time to add a floral wreath to your decor. For a really easy springtime wreath, start with a store-bought grapevine wreath and add some faux flowers. Or, if you're feeling crafty, you can make your own fabric flower wreath.
Easter is a time of rebirth and renewal, so it's fitting that the Easter wreath is often adorned with spring flowers. Daffodils, tulips, and lilies are all popular choices for Easter wreaths. Bright and vibrant colors will really emphasize the springtime atmosphere.
If you want to add a little something extra to your Easter wreath, consider using Easter eggs. You can buy plastic eggs at most craft stores, or you can use real eggs if you're feeling ambitious. Simply hard-boil the eggs, then dye them using food coloring or natural dyes.
Summer Wreath Designs
When the weather heats up, move your wreath outdoors! A summer wreath made of fresh flowers is a beautiful way to welcome guests to your home. You can also use dried flowers and grasses to create a pretty summer wreath that will last all season long. Another great option for a summer wreath is a succulent wreath. Succulents are easy to care for and they add a touch of greenery to your door.
Nothing says "Fourth of July" like a patriotic wreath adorned with the stars and stripes. Flags and red white and blue ribbons make for perfect additions to a summer wreath when independence day comes around.
Fall Wreath Designs
As the leaves start to change color, it's time to bring out the fall wreaths! A fall wreath is a perfect way to welcome guests to your home and get into the autumn spirit. There are so many different ways you can decorate a fall wreath. You can use fresh or faux leaves, berries, pumpkins, squash, or even corn husks. Get creative and mix and match different elements to create a one-of-a-kind wreath that reflects your personal style.
Halloween is the perfect time to break out the spooky decorations, and what could be more perfect than a Halloween wreath? You can find all sorts of Halloween-themed wreaths at most craft stores. If you want to make your own Halloween wreath, consider using a foam wreath form as the base. Then, add some spooky embellishments, like plastic spiders, fake cobwebs, or even small pumpkins.
Thanksgiving is all about family, friends, and food, so what better way to decorate your home than with a Thanksgiving wreath? If you are looking for inspiration for your own Thanksgiving wreath, consider using a cornucopia as the base. Then, fill it with seasonal fruits and vegetables, like apples, pears, or gourds. You can also add some small pumpkins, acorns, or even leaves to give your wreath a truly festive look.
As you can see, wreaths can be used to celebrate any holiday. So don't wait until Christmas to break out the evergreen branches – No matter what holiday you're celebrating, there's a wreath out there that will fit right in. So get creative and have fun!