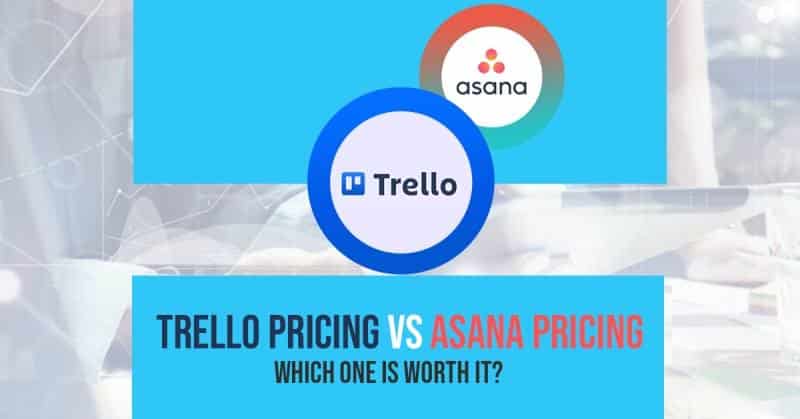 Those who are on the lookout for the best project management software should complete a side-by-side comparison of all the options they have shortlisted. However, if you are short on time then we have completed a comparison of Trello pricing vs Asana pricing plans to help move matters along. These are project management solutions that have been used by industry leaders and Fortune 100 companies. It is important to choose a project management solution by considering all the factors, which is why this article covers several aspects besides the pricing.
Trello Software vs Asana Software – Overview
Most businesses have their own workflows and need to follow specific procedures when they are working on projects which means not every software will fulfil their requirements. They need a technology partner that has all the basic necessities and takes a user-friendly approach.
Trello is a simplistic tool that uses Kanban boards to visualize the project progress whereas Asana is a more robust tool that allows customization and makes it easier to assign individual tasks within any project. Both are great options on paper but the right one for a particular organization is not guaranteed to support their competitor too.
Project Management
An important aspect of finding the right project management tool is identifying the requirements of the company's established processes. When it comes to comparing Trello pricing vs Asana pricing plans, both platforms give users the ability to customize the features according to their processes. However, they come with certain limitations.
Trello demo is more inclined towards following the same processes for all tasks and moving through a pre-determined list of steps. For example, a task for the marketing team goes through the brainstorming, drafting, editing, approval, and publishing phase.
Asana demo, on the other hand, makes it easier to break down every project into tasks or subtasks so the entire workflow can be arranged. Tasks can be moved from one category to another to signify their status change and it is possible to group tasks together for a specific team or the activities that are fulfilling a specific objective.
User-Friendliness
Both platforms are rated high on the ease-of-use scale, however the results depend on what type of task users are trying to accomplish. Trello can be challenging for those who want to add more details to a specific card because users have to scroll and search through all the updates before they find the information they need.
Asana demo is much easier to use but only if you have set up the tasks and subtasks in the correct order. The entire team has to follow the same system and keep track of their responsibilities in a project. The subtasks are often forgotten if they are not commonly used and it can be difficult to find a particular part of the project at a later stage.
Asana and Trello have short learning curves and new users can easily get acquainted with the different steps. However, if you choose the wrong software then it can pose a challenge for the users.
Trello Pricing vs Asana Pricing Plans
The financial aspect of the project management solution is an important consideration but it should not be at the top of the list. The correct implementation process and best adoption practices can bring down the overall cost of any software. This is why buyers should not only look at the pricing plans offered by the vendor but also take the return on investment into consideration.
Asana and Trello demo follow a similar pricing model and they both offer a free version as well. The user-based approach means the larger the team, the higher the cost of the software. However, there are discounts for making an upfront annual payment.
Trello Pricing
Trello has a free version which does not cost anything at all and includes all the basic features. It can get small teams started and help them figure out if the software is a good fit for their team. The business plan starts at $9.99 per user per month and can go up to $12.50 per user on the monthly payment mode.
When conducting Trello pricing vs Asana pricing plans cost comparison, users can start with the free version but they will soon find that they want to upgrade to remove the board limits on their account. They can also integrate a lot of third-party software into the business plan.
Asana Pricing
Asana also has a free version which allows teams of up to 15 members to use all the basic features. However, they do not provide unlimited access to boards and storage. Any business that is expanding and hiring more employees will have to upgrade by paying $9.99 per user per month on the annual payment plan or $11.99 per user per month for the monthly billing.
Upgrading to the premium version of Asana can remove the restrictions associated with a free account and help users manage their projects with ease. They can now integrate third-party software, generate basic reports, and automate several recurring tasks. In terms of Trello pricing vs Asana pricing plans, both follow an identical model and prices are almost the same.
Conclusion
Both are great choices when it comes to project management software, and the final decision depends on the particular needs of your organization. As we have demonstrated in the Trello pricing vs Asana pricing plans comparison, both are identical in terms of dollars. They are well-rounded products and each has its strengths and weaknesses. Asana has more options for reporting and integration but Trello wins when it comes to ease-of-use.
We recommend that those who have a team of more than two users should consider Asana because it allows up to 15 people on the free plan. Trello should be considered by those who want a visual project management tool and do not need to divide tasks into subtasks. Since both platforms have a free version, users should sign up for an account and see which one appeals to them more. Whatever they choose in the end, will increase team productivity.